When anyone says "It's August!" - none of us can believe it! Why does summer go by faster and faster every year! I find I'm always filling every available free minute getting outside, enjoying the sunshine, swimming in lakes & rivers, camping, and trying to absorb every ounce of summer sunshine.
This busy summer lifestyle leaves me living off of dry shampoo and a messy bun! Now that summer is in the early stages of turning to fall - I'm noticing when I take that messy bun out…my hair is feeling realllllly dry and kinda tattered on the ends. Sound familiar?!
I've started to notice that the some of my favorite summer activities are leaving my hair in need of some TLC. I know I'm not the only person who is fighting this battle. I see you having this same struggle when you sit in the salon chair and talk about your hair feeling 'dry' and like 'it's not growing'.
My response, "Never underestimate the power of a good deep condition", followed by "and not all deep conditions are created equal". Usually our hair falls in 1 of 3 categories - and that determines what kind of deep condition we need. Check out these 3 categories and tell me which one you find your self thinking, "That's me!"
#1
Sometimes hair is just dry. It lives in that messy bun 24/7, gets trimmed maybe, once or twice a year, brushing your hair seems like a fight and you can't figure out where the split ends are coming from. Maybe you battle with frizz and your hair feels poofy and dehydrated. No worries! You hair isn't damaged, it's just neglected. Super easy fix! Your hair wants Moisture!
#2
We want our hair to be on trend and we love changing it with the seasons- so we chemically & thermally treat our hair. We color it, we lighten it, we flat iron it, we curl it -- we do all of these things to our hair that changes the structure of it. We start to notice some breakage around the hairline, and our ends feel a little porous and start to split. You know your hair isn't happy with you, but what you may not know is that is needs Protein to rebuild the broken bonds.
#3
I think most of us fall in category three. Let's say your hair has symptoms from both 1 & 2. Your hair does feel dry, tangly, and sorta brittle & breaking off leaving you with split ends. You do chemically and thermally treat your hair on a regular basis. AND THEN we throw it in a messy bun and spray if full of dry shampoo and tell our Stylists "just a baby trim, I'm growing it out". I'm not going to lie to you. I'm in this category - so don't feel alone! Our hair needs repair work! It's likely we need Protein to rebuild the broken bonds, AND Moisture to hydrate the cuticle layer.
My recommendation - an educated Stylist will know your hair history and what it takes to make it strong, healthy and full of luster & shine. They will be using professional products and can often cocktail them to create a conditioning treatment specifically tailored to treat your hair's unique issues.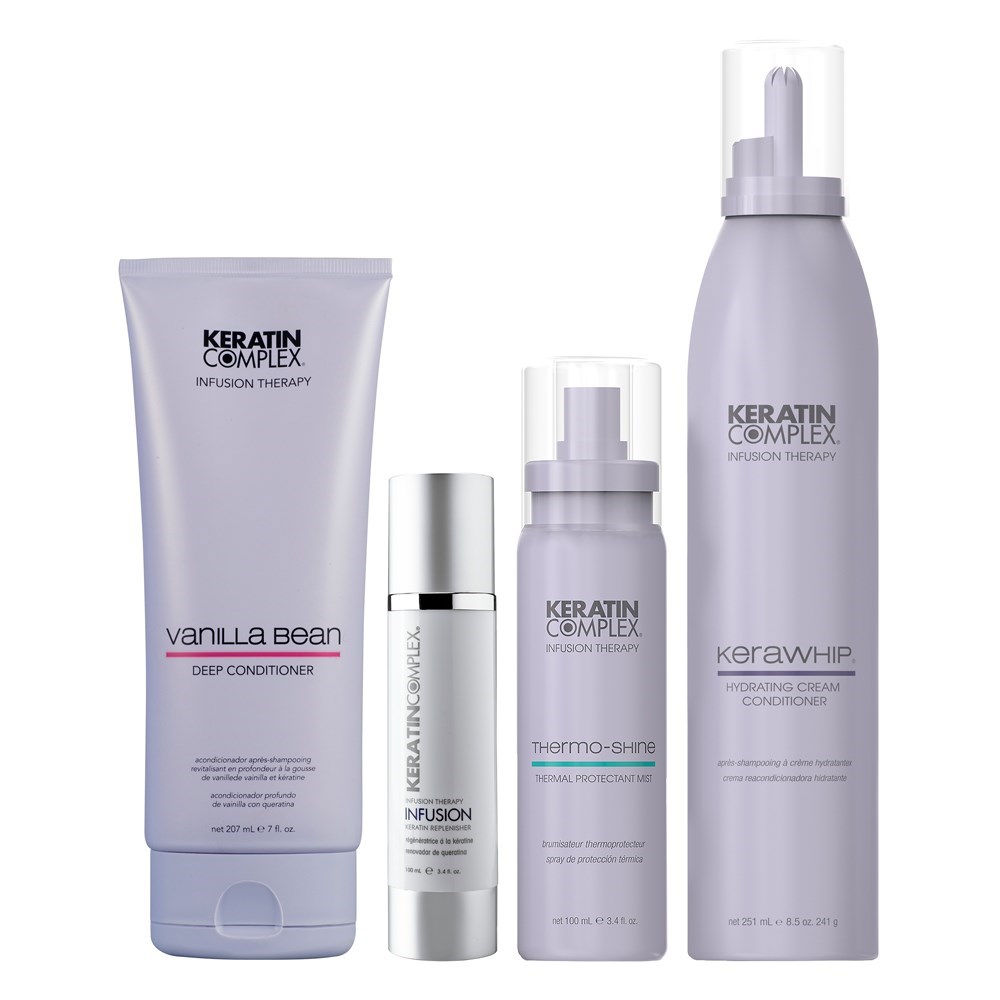 For all you #rosegolde #beautybabes - I'm sure you guessed it and I've got you covered! August's Promotion is Conditioning Treatments.
As you reminisce over your Summer remember your hair has also had a hot, dry, and busy event filled 3 months. Before you shift your focus towards cool crisp air and pumpkin spice everything - make your hair a priority and get a conditioning treatment. You'll be all sorts of thankful going into Fall when your hair is strong and healthy, and the brush no longer gets caught in a tangly mess.